The Wreck of the Orline St. John
 by Caleb Curren
Contact Archeology Ink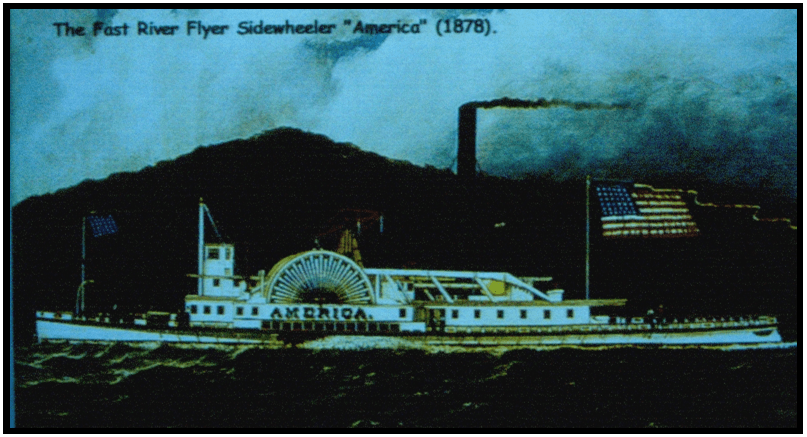 The Orline St. John was a side-wheel steamboat built in 1847 at Louisville, Kentucky.  The packet boat ended its short life in 1850 on the banks of the Alabama River. The boat burned and sank with some forty lives lost.  Men, women, and children passed away. Some of the bodies were found downstream as far as seventy miles.
The wreck of the steamboat was found by two fishermen in 1955.  They brought in diving gear and explored the wreck.  The list of artifacts recovered is veryimpressive and sheds a bit of light on the lives of the people of that time.
The following pages give a glimpse of that adventure and exploration.
A Sample of the artifacts recovered from the wreck of Orline St. John include, by class as follows:
Cargo Items:  spools of thread, brass straight pins, pocket knives, straight razors (etched on them, "for barbers only, not a weapon"), loading hooks, shoes, china (the name of the boat), scissors, hand wrought nails, spikes, bolts, keys, buttons made in France, stirrups, curry combs, roe, draw knives, leather working pliers, door knob, trunk straps, pieces of bolts of cloth, copper furniture ornaments, dishes, thimbles, belt buckles, corset straps, hay, well preserved, child's ruffled dress, wooden barrels, wooden kegs, glass bottles, ceramic cream pitchers, silver coins 18th / 19th centuries, books (a book salesman was aboard), gold watch and chain, Sheffield England steel objects, boat's ledger badly burned, paper travel tickets.
Boat Equipment:
fire box
boiler
anchor chain
door locks
ships bell
nameplate from safe
stove
paddlewheel gear mechanism
bricks from boiler (bricks from Pensacola)
steam engine mounted on 16 ft. x 16 ft. oak frame by 3 in. bolts and 8 in. nuts.
Summary:  The salvors tried for a while to share their finds with the public by displaying  the artifacts in a local general store but today the collection is only partially intact and without proper preservation many of the artifacts have deteriorated.  The original salvors have passed. Those men of discovery were before their time.  In those days, conservation could not keep up with their passion. Today, conservation labs in most states have been established to deal with underwater discoveries.  Often times, we now know when to leave them underwater or surface them awaiting the vats of conservation.  The wreck of the Orline St. John is still a story only partially told with salutations to those early explorers. A sample of fieldwork and discoveries is included on the following pages.
 References:
"The Wreck of the Orline St. John: with a general history of steamboats in southwest Alabama. Caleb Curren.
(in) Archaeology in southwest Alabama; a collection of papers. Alabama-Tombigbee Regional Commission.
"Off the Path."
Google Orline St. John for this article and a number of others.
This is one of a series of field notes for archeological researchers. The  notes are free. Pass it on if you please.
Caleb Curren January  2010
The Orline St. John was a side-wheel steamboat built in 1847 at Louisville, Kentucky.  The packet boat ended its short life in 1850 on the banks of the Alabama River. The boat burned and sank with some forty lives lost.  Men, women, and children passed away. Some of the bodies were found downstream as far as seventy miles.

The wreck of the steamboat was found by two fishermen in 1955.  They brought in diving gear and explored the wreck.  The list of artifacts recovered is veryimpressive and sheds a bit of light on the lives of the people of that time.

The following pages give a glimpse of that adventure and exploration.

A Sample of the artifacts recovered from the wreck of Orline St. John include, by class as follows:

Cargo Items:  spools of thread, brass straight pins, pocket knives, straight razors (etched on them, "for barbers only, not a weapon"), loading hooks, shoes, china (the name of the boat), scissors, hand wrought nails, spikes, bolts, keys, buttons made in France, stirrups, curry combs, roe, draw knives, leather working pliers, door knob, trunk straps, pieces of bolts of cloth, copper furniture ornaments, dishes, thimbles, belt buckles, corset straps, hay, well preserved, child's ruffled dress, wooden barrels, wooden kegs, glass bottles, ceramic cream pitchers, silver coins 18th / 19th centuries, books (a book salesman was aboard), gold watch and chain, Sheffield England steel objects, boat's ledger badly burned, paper travel tickets.

Boat Equipment:

fire box
boiler
anchor chain
door locks
ships bell
nameplate from safe
stove
paddlewheel gear mechanism
bricks from boiler (bricks from Pensacola)
steam engine mounted on 16 ft. x 16 ft. oak frame by 3 in. bolts and 8 in. nuts.

Summary:  The salvors tried for a while to share their finds with the public by displaying  the artifacts in a local general store but today the collection is only partially intact and without proper preservation many of the artifacts have deteriorated.  The original salvors have passed. Those men of discovery were before their time.  In those days, conservation could not keep up with their passion. Today, conservation labs in most states have been established to deal with underwater discoveries.  Often times, we now know when to leave them underwater or surface them awaiting the vats of conservation.  The wreck of the Orline St. John is still a story only partially told with salutations to those early explorers. A sample of fieldwork and discoveries is included on the following pages.

 References:

"The Wreck of the Orline St. John: with a general history of steamboats in southwest Alabama. Caleb Curren.

(in) Archaeology in southwest Alabama; a collection of papers. Alabama-Tombigbee Regional Commission.

"Off the Path."

Google Orline St. John for this article and a number of others.

This is one of a series of field notes for archeological researchers. The  notes are free. Pass it on if you please.

Caleb Curren January  2010