Animals A Search for Ice Age Animals and Humans in Alabama
 by Caleb Curren
Contact Archeology Ink
Several important archaeological research projects concerning animal and human remains from the late Pleistocene, Paleo Indian Period were conducted during the late 20th Century under the direction of Caleb Curren and funded through the Archaeological Research Association of Alabama Inc, the University of Alabama, and the Alabama Geological Survey.
Hundreds of animal remains and artifacts were discovered and/or examined. Private collections as well as museum collections were studied.  New sites were discovered.  Radiocarbon dates were also obtained from wood remains in prehistoric strata. The average dates ranged from 10-20,000 years ago.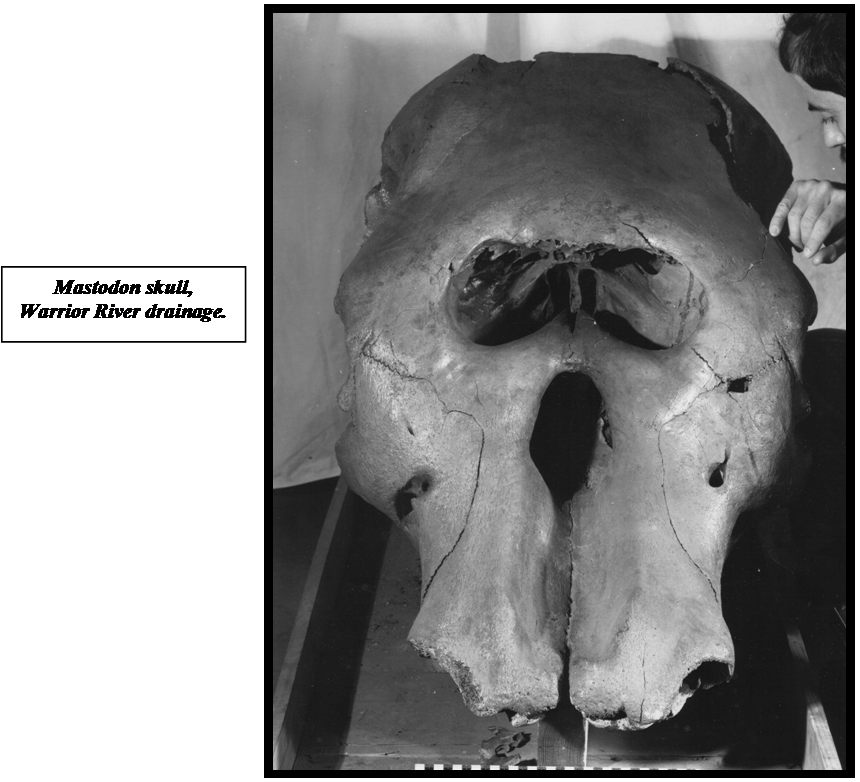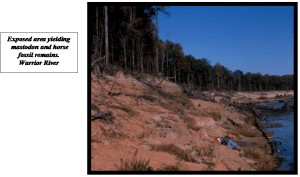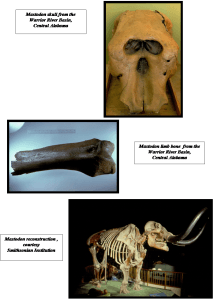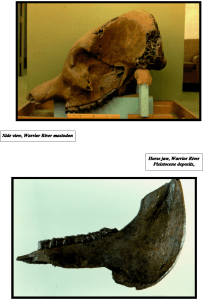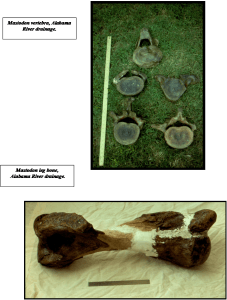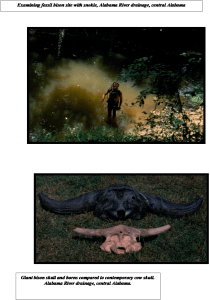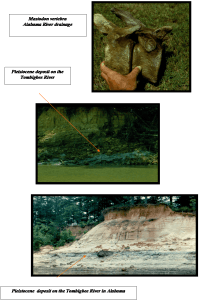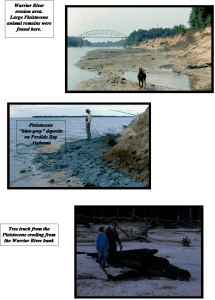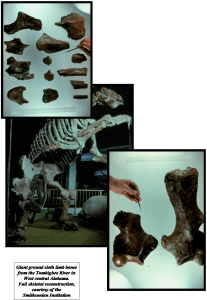 References for the work include:
 "Paleo Indian and the Pleistocene of Alabama."  by Caleb Curren. The University of Alabama.
"Summary Report of a Short-Term Investigation of Late Pleistocene and Early Holocene Deposits Occurring Along the Tennessee-Tombigbee Waterway in Alabama." by Caleb Curren, Charles Copeland, and Samuel Shannon. The Geological Survey of Alabama.
 "Pleistocene Deposits Confirmed."  Geo-Petro Notes, Vol. 1, No. 4
 "Supplemental study of Pleistocene Formations along the Tennessee-Tombigbee Waterway in Alabama."  by Charlie Copeland and Caleb Curren. Alabama Geological Survey
Tuscaloosa County, Alabama
This is one of a series of field notes for archaeological researchers. The notes are free.Pass it on if you please.
Caleb Curren: August 2009
Several important archaeological research projects concerning animal and human remains from the late Pleistocene, Paleo Indian Period were conducted during the late 20th Century under the direction of Caleb Curren and funded through the Archaeological Research Association of Alabama Inc, the University of Alabama, and the Alabama Geological Survey.

Hundreds of animal remains and artifacts were discovered and/or examined. Private collections as well as museum collections were studied.  New sites were discovered.  Radiocarbon dates were also obtained from wood remains in prehistoric strata. The average dates ranged from 10-20,000 years ago.

References for the work include:

 "Paleo Indian and the Pleistocene of Alabama."  by Caleb Curren. The University of Alabama.

"Summary Report of a Short-Term Investigation of Late Pleistocene and Early Holocene Deposits Occurring Along the Tennessee-Tombigbee Waterway in Alabama." by Caleb Curren, Charles Copeland, and Samuel Shannon. The Geological Survey of Alabama.

 "Pleistocene Deposits Confirmed."  Geo-Petro Notes, Vol. 1, No. 4
 "Supplemental study of Pleistocene Formations along the Tennessee-Tombigbee Waterway in Alabama."  by Charlie Copeland and Caleb Curren. Alabama Geological Survey

Tuscaloosa County, Alabama
This is one of a series of field notes for archaeological researchers. The notes are free.Pass it on if you please.

Caleb Curren: August 2009