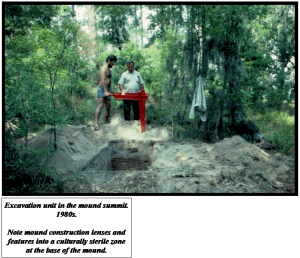 1Ba1 is one of the most important sites on the northern Gulf Coast relative to early Spanish contacts with Native populations during the 1500s.  It is a burial mound containing Native and Spanish artifacts.
It was first discovered by the intrepid C.B. Moore in 1901 who excavated numerous pottery vessels and Spanish artifacts from the site.  Gordon Willey revisited the site in 1949 and Hale Smith noted it in a 1950s article.  Caleb Curren returned to the site with a volunteer team in the late 20th century to determine if any of the site still remained intact.  The land owners were cooperative and expressed interest in preserving what remained of the site.  A five foot high metal hurricane fence had been constructed around the property.  An excavation unit was dug into the mound by Curren and the volunteers and, surprisingly, a  portion of the mound was relatively undisturbed.
In summary, from all of the investigations of the mound based on Moore, Willey, and Curren the following Native artifactual remains include:  late Mississippian ceramics, shell beads, shell earplugs, stone projectile points, hammerstones, stone celts, and stone discoidals.
European artifacts include: silver buttons, a mid-16th silver coin, blue glass beads, faceted chevron glass beads, a gooseberry glass bead, iron nails and spikes, a "cutlass" handle, a decorated sheet brass fragment, the remains of a wooden box with remains of two skulls, four femurs, four tibia, two scapula, one clavicle, ribs and vertebrae, and glass beads.
Generally, the Native and Spanish artifacts dated to the mid-1500s.   I surmise that the site reflects contacts with the Spanish expedition of Tristan de Luna. The following pages of photographs give a brief impression of this very important northern Gulf Coast European contact site.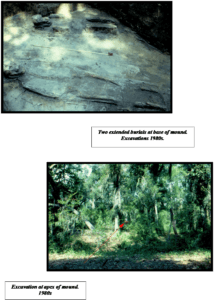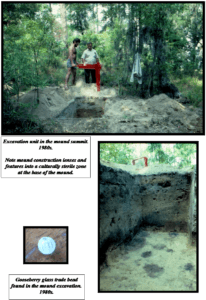 This is one of a series of field notes for archeological researchers. The notes are free. Pass it on if you please.
Caleb Curren: August 2009
Archeological Excavations at 1Ba1 on Perdido Bay in Baldwin Co., Alabama
by:   Caleb Curren