Rolling Hills, an Important Spanish Contact Site
 by Caleb Curren
Contact Archeology Ink
During the latter half of the 20th century an important late Mississippian /Protohistoric site (circa mid-1500s through 1600s) was discovered in east-central Mississippi.  Heavy machinery was clearing land for development. Numerous burials, houses, and refuse pits were exposed.  Local people contacted Mississippi State University to report the finds.  Archeologists investigated the area, conducted excavations, and interviewed local people who had found remains at the site.  The site was estimated to be approximately six square miles in size. Multiple settlements were scattered throughout the area, primarily atop ridges above small creeks.  The ceramic assemblage from the site is varied with many decorative symbols.  The European artifacts could be important indicators of  the passage of the 1540 Soto army through the general area.  The European artifacts included iron hatchet blades, 30-40 glass trade beads, a portion of a brass bell (Clarkesdale), an iron celt, a section of an iron knife blade as well as many items probably removed from the site by local people.  Most of the European artifacts were found in secondary bundle burials, some burials being multiple.  The following photographs are a small sample of Native and European artifacts from Rolling Hills.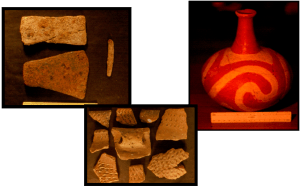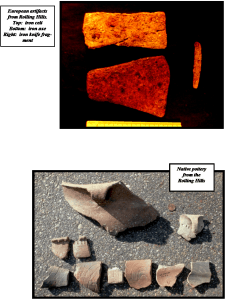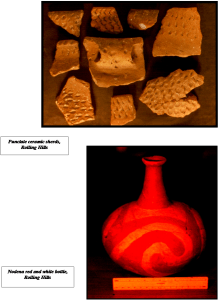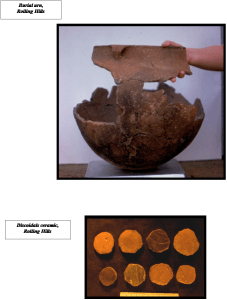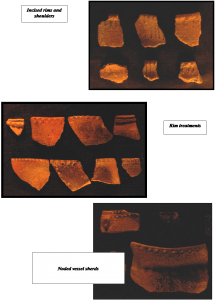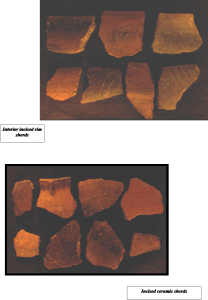 "An Historic Contact Indian Settlement n Oktibbeha County, Mississippi"
by James R. Atkinson.  Paper presented at the 17th Annual Conference on
Historic Site Archaeology.
"Comment on Mississippian Occupation of East Central Mississippi." 
by Richard A. Marshall.  Paper delivered to the Southeastern Archaeological Conference.
This is one of a series of field notes for archeological researchers.  The  notes are free. Pass it on if you please.
Caleb Curren:   August   2009
During the latter half of the 20th century an important late Mississippian /Protohistoric site (circa mid-1500s through 1600s) was discovered in east-central Mississippi.  Heavy machinery was clearing land for development. Numerous burials, houses, and refuse pits were exposed.  Local people contacted Mississippi State University to report the finds.  Archeologists investigated the area, conducted excavations, and interviewed local people who had found remains at the site.  The site was estimated to be approximately six square miles in size. Multiple settlements were scattered throughout the area, primarily atop ridges above small creeks.  The ceramic assemblage from the site is varied with many decorative symbols.  The European artifacts could be important indicators of  the passage of the 1540 Soto army through the general area.  The European artifacts included iron hatchet blades, 30-40 glass trade beads, a portion of a brass bell (Clarkesdale), an iron celt, a section of an iron knife blade as well as many items probably removed from the site by local people.  Most of the European artifacts were found in secondary bundle burials, some burials being multiple.  The following photographs are a small sample of Native and European artifacts from Rolling Hills.

"An Historic Contact Indian Settlement n Oktibbeha County, Mississippi"

by James R. Atkinson.  Paper presented at the 17th Annual Conference on

Historic Site Archaeology.

"Comment on Mississippian Occupation of East Central Mississippi." 

by Richard A. Marshall.  Paper delivered to the Southeastern Archaeological Conference.

This is one of a series of field notes for archeological researchers.  The  notes are free. Pass it on if you please.

Caleb Curren:   August   2009